Nuts and Bolts
So! The magic of June has arrived. And for the next couple of weeks we're in the magical fusion of late spring and early summer. Now, before the heat waves hit, we're sparked by this powerful feeling:
We planted all spring....now we harvest--and harvest well with work and positive thoughts and good luck. In this mood, at the close of my third quarter in Seattle, I approached the Rubicon and chose to up my Game here.
--I dug in and began to master the new call center position. Tough work and scheduling issues, but: I'm out of retail after too many years...I have Sundays and holidays off...and the extra money is being put to good use.
--I launched the second part of my Southern Scotch blog's forum on violence in art. And in less than a month it whipped the numbers of the first part. (Combined total so far: 8300 views.)
--I collaborated with my new cover artist, Jean Schweikhard, on a bold new look for my next book's cover.
--I chose three words as my motto:
Dared and Done.
City Beats
Seattle is both this:
and this:
Can't we find a way to meet somewhere in the middle?
Sports
My disgraceful gym hiatus continued through May 30. Job pressure. Writing deadlines. Continuing schedule blues. At last, proud to say, I rallied--rather than become the punchline to some scoundrel's fitness jokes. Saturday, May 30, I did a rugged abs workout, then stretched. Sunday I returned to Gold's and punished myself properly for being such a slacker.
Financial
A lifelong Bohemian, I plan to make the most of the more serious salary. Three goals I plan to reach before even thinking of changing jobs:
1) Spend the next three months getting the niceties and comforts my studio still needs.
2) Invest in new covers for some of my ebooks--and also publicity to reach a wider audience.
3) Arrange time to travel on my present job (no two days off in a row).
Entertainment: Kicks of the Month
One day I'd had enough of watching DVDs on my 7" DVD player. I'd also had enough of the limited, impoverished thinking that kept me from upgrading. I ordered a Proscan 22" flatscreen combo TV/DVD player--that broke within
one hour
. Disgusted, and generally put off by flatscreeens, I returned the Proscan, then began to do some research.
Result: I visited a pawnshop, obtaining a used Sharp tube TV and a Capello DVD player--for less than the Proscan had cost me. Better picture, better sound.
Now that I had a TV and DVD player, I reached another Rubicon: pay through the nose for cable...or begin go build a world-class DVD collection: not just movies but TV seasons of great shows. I chose the latter, ordering:
and more...
Changing Time
When the June bug bites, you know it's time to stop idly thinking about plans to refashion your image. Live forever in the shallows or make up a list that you call Dared and Done. This is at the very heart of the Seattle spirit: the pluck and the almighty gall to remake yourself as you please.
I divided my gall into two parts to start, thus beginning my Dared and Done list.
1) No more bad hair cuts or bad hair days. After a hideous May cut for $30, I vowed: I'd let my hair grow all through June--then spend an outrageous sum to have my hair done right. Better second-hand clothes than a second-rate cut. So before July 1, I'll go to:
2) I refuse to spend another month imagining myself with a tattoo. Dared and Done this will be too. Under the Needle, here I come!
Litrachoor
Finishing reading
:
Material Evidence
by Bill Kirton, first in the series of Jack Carston mysteries. Kirton's an exceptional writer with his unique blend of subtle stylistic grace and occasional in your face rawness. And Jack Carston is an engaging and deeply sympathetic hero.
Next in queue:
Spirit of Place
by Dennis Hamley. I know the book has something to do with time travel and Alexander Pope. But I've made it a point to learn nothing more about it. Hamley's such a wonderful writer that I expect to be as surprised as I was by Nabokov's
Pale Fire
, in which the actual story is told in the footnotes to an ancient poem.
In the Works:
1)
Mastery,
my third Kelley Wilde horror novel, had a fresh and compelling story line: In 1986, the year of Halley's Comet, passengers on board the California Zephyr are sent rolling back in time. They arrive in San Francisco, 1906--the year of the Great Quake--stalked by a unique type of vampire who needs their blood type to survive. The original edition, though, was compromised by deadline pressures and personal stress. Twenty-five years later, I've set out to get it right: cutting over 5000 words and rewriting most of the rest. Launch date: as hoped, in July. New title:
MonsterTime.
2) I'm halfway through the second draft of
Caesar's Ghost
, my work in progress. This may be the most unusual book I've written. But it remains, at heart, a tale for those who like hardboiled mysteries with a funky edge.
Homebodying
No more fooling around. No more dawdling. These are things I most need to transform my studio into a cool place to visit...by the end of this first year:
1) A used desk, smallish but with filing space. Something like this would be perfect:
2) A used office chair. Comfortable, but not fancy.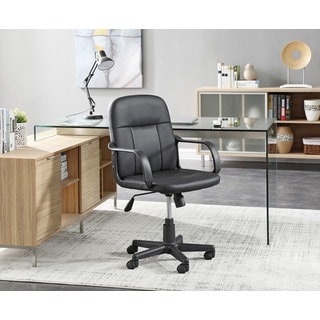 3) A used loveseat. Two-seater, preferably. Something a little like this:
Plus:
a small bookcase, more linens and dishes, food and drinks for guests...and on.
Deep Thoughts:
--Practice doesn't make perfect, as we know. Perfect practice does. But, till you get going, the imperfectly perfect imperfect may do.
--It's never too late to let your hair down...as long as you manage to keep enough hair.
--And:
Special June Gift
How could I sign off without leaving you a gift this month? As you set about perfecting the art of Dared and Done, foes will try to bring you down. These miserable little morons are armed with sneers, jeers, rolling eyes and well-sharpened knives to be placed in your back. Fear them not from this day on, for you have something better. Something never shared before this day. You have a MacRathian malediction to ward off their whammies and inspire karmic payback.
Speak the words slowly, clearly and just a bit theatrically. Furthermore, be careful to give each line its full four beats. Here, now, the

Reap your due and eat my shorts,
You doody-loving dodo.
You will notice, the instant you say this, a charged sense of well-being and rebooted spiritual power. You are protected, loved and free to continue to cry 'Dared and done!' And rest at ease in knowing no doody-loving dodo can turn these words against you.
Happy June to all of you.