Nuts and Bolts
March arrives with a
flurrious
blizzard of pending things and memories of my trip to San Francisco (02/25-03/01.) Last month I:
--Completed two lengthy kiosk job applications at a pair of stores claiming that they needed help. Quickly received two rejections, probably resulting from the restricted available hours I showed. (Heck, after years of working weekends and holidays, I want a better schedule.)
--Printed hard copies of my retail resume for a few personal store visits I have planned for March.
--Made serious note of the Help Wanted signs in the post office windows.
--Worked through February on the outline for my fourth Boss MacTavin mystery.
--Manned up when my free San Fran accommodations fell through, leaving me with a nonrefundable bus ticket. With a lot of online digging, I found a cheaply priced, decent hotel.
City beats
Seattle is:
--
Mindful of travelers' needs.
The light rail to the airport can rival the best in the country. But Seattle doesn't stop there. The light rail also takes us to the Amtrak station, conveniently close to downtown. And the Greyhound bus station is also a short ride. Better still, I learned, the bus station is adjacent to the light rail station. No nerve-wracking treks along derelict streets. Finally--and this really is almost unheard of--the bus station is bright and clean, with a smiling guard and ticket attendant. (Greyhound moved to this location in March 2014.)
--
Mindful of non-drivers' needs.
I was skeptical when I first heard that the city planned to start posting
live
bus tracking signs around town, using OneBusAway. But they've begun to multiply in the following form
and also in plainer street-side signs with gold lights on black background.
--
Committed to Old School customer service.
I found it at the A-1 Laundry, when I needed same day service on a single shirt. Three other places had told me that turnaround time was a couple of days. A-1 told me to bring it in by 9 a.m. and I'd have it back by 4 p.m. Not only that, they boxed it beautifully. (My former dry cleaner in Charlotte considered a handled paper bag to be a box--cardboard, they said, was too expensive.) The A-! also made sure that I had a piece of red licorice and asked me to return. I will. Location: 2401 1st Ave, at the corner of Battery.
Sports
My 'guns' are good after four-plus months at Gold's. Not this good yet, I'm the first to admit:
But, still, my guns are much better than his:
'
I still have a couple of soft spots and my legs are lagging. But I'll humbly claim a silver star sprinkled here and there with touches of real gold.
Entertainment: Kick of the Month
My addiction to Homeland grew hopeless. I continued watching through the third season (so far the most recent available on DVD). And, when finished, I began rewatching the first season. 1-3 form a clear-cut, brilliant story arc. The last episode plays, in fact, almost like a show--not a series--finale. What happens next, I do not know. But the first three seasons can go toe-to-toe with anything else on the planet.
And week by week I grow more hooked on the new Breaking Bad prequel:
Litrachoor
Now finishing
: Lost Years
by Richard Monaco. Will be sad to finish this one because I've enjoyed it immensely--and because it has such a juicy part for the series' most compelling character: Sir Gawain.
Reading for the bus to and from San Francisco:
1)
The Sparrow Conundrum
by Bill Kirton. A rogue chieftain of Tartan Noir took a darkly comic turn in this first novel...and the opening pages grabbed me.
2)
Killer's Countdown
by Wendy H. Jones. A promising-looking mystery that's won some terrific reviews. Once again, the opening pages hooked me, so I chose to give this first novel a try.
In the works:
1) I chanced upon a hot new angle to the crime that I'd picked to explore in my latest mystery. I hadn't been this stoked in years. So I started outlining in earnest last month and have begun to write now at my slow and steady pace of 500 words a day. At 15,000 words a month, I'll have the book drafted in 3-4 months.
2) Meanwhile, my formatter Yvonne Betancourt has started scanning
Mastery
, another of my Kelley Wilde horror novels. Yvonne is not only scanning the hard copy of this old book, she's cleaning up the glitches and typos that the process sometimes causes. The sample results she has sent me are flawless. And her hard work frees me to work on Boss MacTavin while getting out a second book this year.
Homebodying
Our apartment building gave presents to tenants to induce us to be spanking clean. The packages included items from the Mrs. Meyer's Clean Day line:
I received the dish soap shown above, a package of surface wipes and a general spray cleaner--all with soothing lavender scent. And there's no question now, friends, about which of these two rules my place:
Ripoffs and Savvy Savings
The Great Shaving Adventure continued...
1) Industry-wide extortion.
It's all malarkey and hooey, folks: shaving gels and foams...cartridges holding a half-dozen heads...60 different brands, each with its own perfect gimmick...You're mad as hell each time you pay because you know you're being had. Common sense will tell you that. Your poor brain screams, 'There is no need to spend $30-$40 a month on this
crap
!"
2) Let your sanity rule and be happy.
Know this: there are alternatives out there. My own choice is Dorco.
http://tinyurl.com/q42tnw2
And here's what I can tell you based on my experience over the last month:
--Shaving every other day, I've received 10 perfect shaves so far from my first Dorco cartridge--and I expect to get another 7-10 shaves. That's 17-20 shaves from a cartridge costing $1.22.
--I have not had a single nick or cut.
--Instead of rip-off foams or gels, I use these accessories: a boar bristle brush, a small shaving bowl--and--best of all:
A 150 ml tube of this cream may cost anywhere online from $6.50-$10. But only a dollop is needed, whipped up by your brush into the perfect lather. My own first tube should last me anywhere from 4-6 months. Do the math.
Laptop Hoboing
Going on six months here, my three leading candidates for Laptop Hobo Heaven are:
1) Seattle Coffee Works
, 107 Pike Street, just steps away from Pike Place Market.
I correct my earlier reservation about "spotty" wi-fi reception. That issue was corrected. The wi-fi connection is strong enough for all internet activity...except downstreaming. The staff are friendly, the coffee's great, and the outlets are abundant. Washrooms are clean, keys for each outside their doors.
2)
Starbucks,
4th Ave and Seneca.
A wealth of tables here, including one coveted double up front, alongside a column with a double outlet. I've gotten to know the other hobos who really dig this table and we help each other out. I may leave a little early, waving one of the two men over for his turn. They reciprocate.
3) Starbucks
at 2nd and Cherry. The coffee house opened in 2013, but the building itself dates back to 1894. This is my little home from home, with a welcome touch of Old World charm.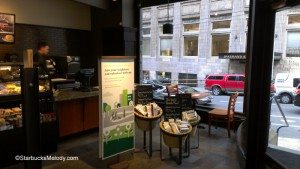 Only major drawback: the local miscreants wreak havoc on the restroom every now and then. A few times every month the washroom must close for repair. Or even health department inspection. Literally filthy bums at work? Ewwww!
Classifieds
Wanted:
Reward for information leading to the release date of Homeland's Season 4 on DVD.
Deep Thoughts
1) I always do what I say. But I don't always say what I've done.
2) My great aunt in old age confessed: 'From my earliest girlhood I've worshiped men's feet. But now that I'm older I've had to cut down. One foot, give or take an inch, is all my doc allows me."